Webinar: Web Macrotrends - From Accessibility to AI
.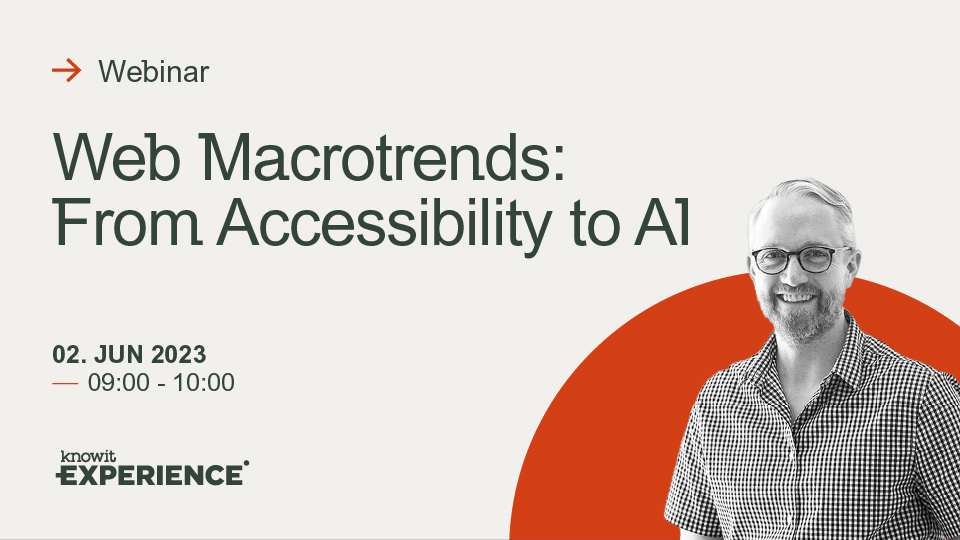 What's next within web trends?
Looking at the near future in our industry, we can expect an exponential adoption of web design techniques and trends that have been evolving over the past few years.
Join Senior UI/UX Designer, Patrick O'Toole in this upcoming webinar as he delivers a concise and down-to-earth overview of the essential 2023 web macro-trends that digital marketing professionals need to know.
From the latest design trends like scrollytelling techniques and microinteractions to broader concepts like inclusive design and artificial intelligence, Patrick will provide insights into the current state of these trends and their future directions.
Patrick's list offers a quick overview that draws from a synthesis of online articles and his own first-hand experience with recent client projects.
Key takeaways:
- Inspiring pointers on the latest web macrotrends
- Useable knowledge on the development within trends like accessibility and AI
- Knowledge on how to utilize these trends within your business
Target group:
This webinar is primarily targeted towards digital marketing professionals looking to be inspired by the latest web trends, and wanting to learn how to utilize these trends within their own way-of-work.
Intrigued? Then sign up for the webinar through this page. We will send you a confirmation email and remind you again, once we get closer to the webinar.
Til toppen