More than Commerce: Driving Digital Sales in B2B
.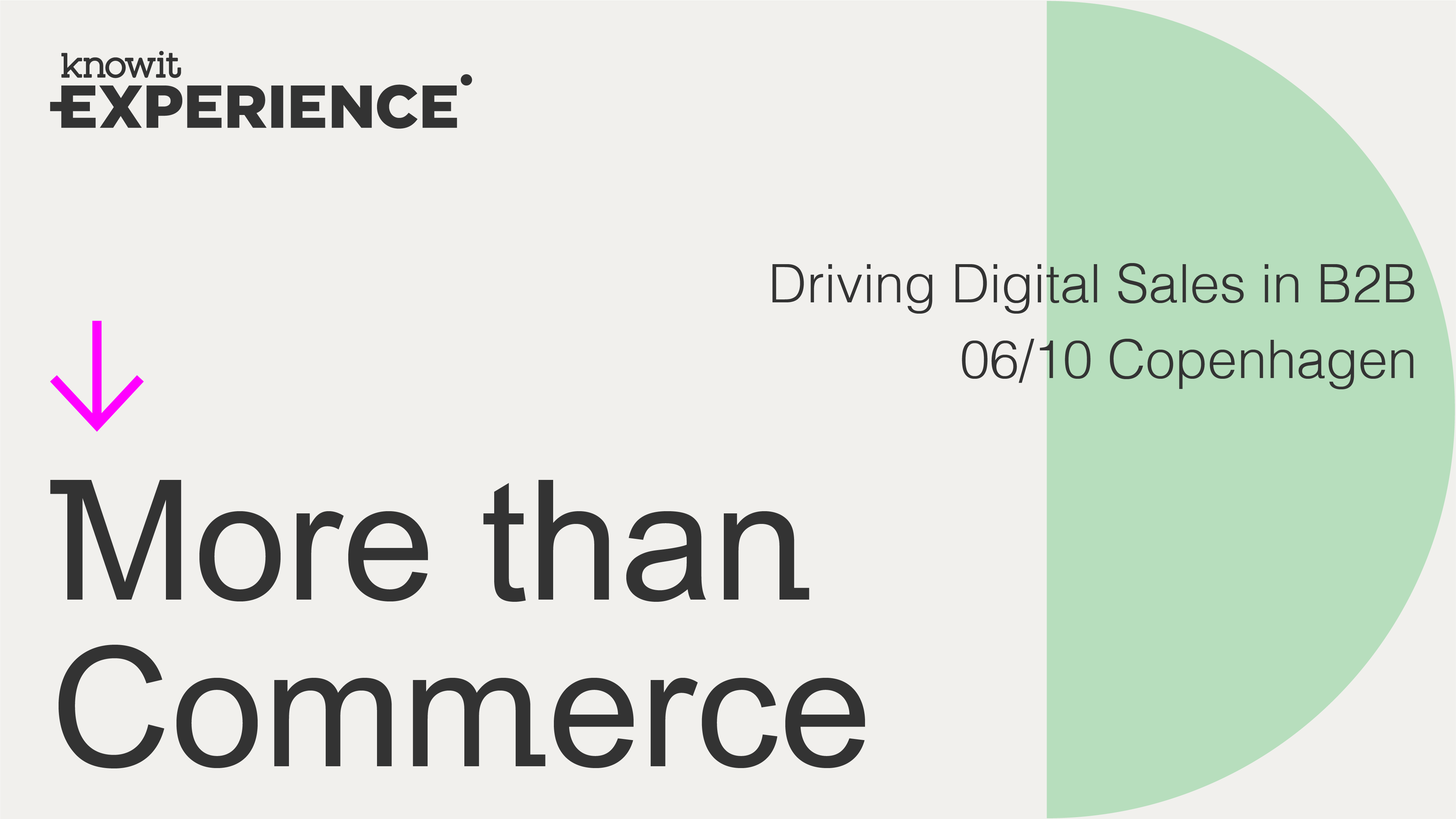 Introduction:
B2B Commerce has come a long way in recent years. Actually so far, that the term 'commerce' no longer suffices. Today, succesful commerce is reliant on a full digital ecosystem, wherein all platforms and touchpoints work together to enhance the customer experience. This means that digitalisation needs to be done in all parts of the organisational setup in order to drive digital sales in the current market.
For this half-day conference, we will kick off by providing you with valuable insights into the current state of the B2B commerce market. And then we will put on our swimsuits and take a deep-dive into all the surrounding topics that good B2B commerce entails.
The goal is to talk about B2B Commerce in a more holistic way that includes multiple perspectives of digitalisation that support commerce in different ways.
We will start off with a great lunch to get the chitchatter going before heading into the action. And by the end of the day we will also be serving an ice-cold beer, drink or soda to anyone who wants to stick around.
Agenda:
12.00-12.45: Lunch
12.45-13.00: Intro & Welcome
13.00-13.30: B2B Commerce - State of the Nation, Litium
13.30-14.00: Evaluating Your Organisation's CX Maturity, Lasse Staffensen & Morten Barkholt, Knowit Experience
14.00-14.15: Coffee & Bathroom Break
14.15-14.45: Selfservice Platforms & Tools, TBA, Knowit Experience
14.45-15.15: Using a CDP to Elevate Your Data Setup, Jonathan Bjerre Guld, Knowit Experience
15.15-15.45: Business Design, Mathias Holdsbjerg-Larsen, 1508
15.45-16.00: Coffee & Bathroom Break
16.00-16.30: TBA, Pernille Grand, Knowit Experience
16.30-17.00: B2B Branding & Communications, Lasse Giversen, Knowit Experience
17.00-18.00: Beers, Drinks, Networking
We will update the event and talks accordingly, but if you already know that you are interested, feel free to sign up, and we will insta-send you a confirmation and put your preferred drink in the cooler!

The event is in English.

OBS! This event is in Copenhagen, but you can also experience it in Aarhus.
Til toppen